Living room storage that lets you express yourself.
Get creative with modern furniture that stands out and fits everything.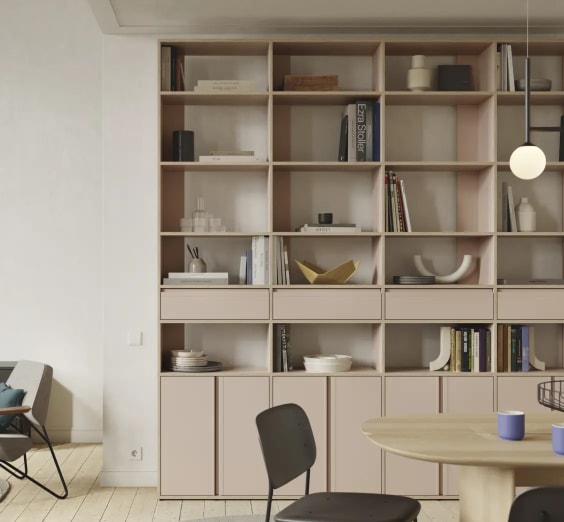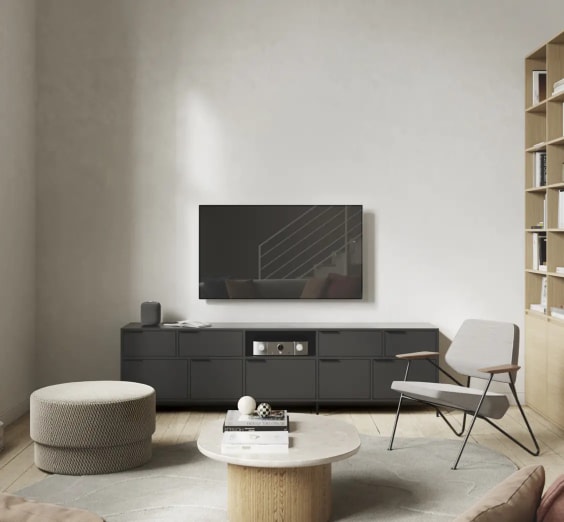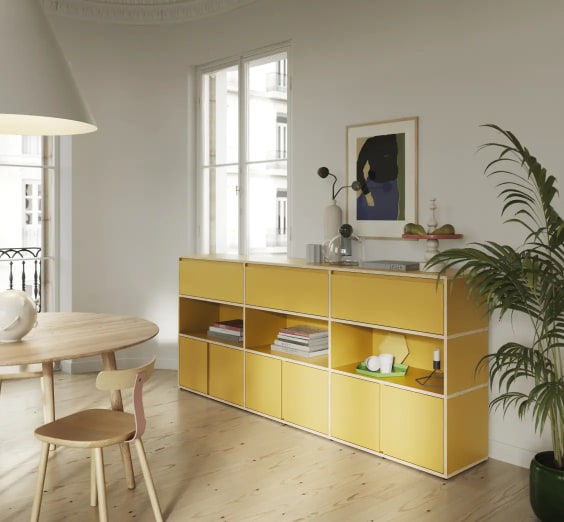 Tylko Rooms
Experience the perfect fit effect.
Design storage that perfectly matches your space, and enjoy the tranquility that comes with it.
4.9 based on 7552 reviews

Free delivery to Other Regions
Small living rooms, sorted.
Small space? No big deal. With clever designs that make room for more, creating a living room you love is easy. Swipe to get inspired.
Tylko looking good in your homes
A word from our customers
4,9/5 based on 8303 reviews
Great design, easy to install, best user experience ever.
Great user experience! From the online configuration till installing the bookcase in our living room. We are really happy with the result. Our Tylko bookcase really brings the room together and is the perfect way to display our books, some plants and memorabilia we collected over the years. The doors at the bottom are perfect to hide some ugly cables and internet tech.
It is just great: the design, the delivery and the assembly,
Very good quality, great design, well thought delivery in 16 boxes and rapid assembly by 2 Tylko men. Only one thing: the bookcase is 243cm high, the ceiling 244cm, a perfect fit, but the assembly men never heard of Phytagoras. Luckily a part of our living room is over 3 meters high.
As I had to move out of my old flat...
...I needed a smaller shelf as my last living room was huge, the new one isn't anymore. So I decided to order a custom one from Tylko, as you can see, It is just perfect. As my hifi-composition is very heavy and with a turntable quite delicate... to cut it short, the new shelf is just perfect for my needs. The assembly is easy and it is some kind like Lego, great fun to build it together. It is very stable, that was really important for me. The delivery was exactly as announced and the communication super friendly. I just have bought a new shelf for my daughter, that says it all.
Amazing
Amazingly easy to assemble (zéro tools !), great finish and great overall look. Fits perfectly in my living room
A real showstopper!
The perfect console for a living room - I use it to store my records/player, plus a bunch of books and favourite things I like to keep at hand. My apartment is rather small, with a combined living-kitchen area, so the sideboard is really in the centre of it all. The assembly took less than an hour and the manual was super easy to follow. Loved the click-in legs!
Simple et efficace
Nous sommes ravis de la bibliothèque qui est venue habiller tout un mur de notre salon. Montage facile, même s'il a fallu jouer du marteau. Notice parfaite (on a quand même cherché un peu, n'ayant as repéré immédiatement l'autocollant du carton 2 qui précisait "Open first. Notice inside"). 5h de montage à deux pour une bibliothèque de 3m de large par 2.50m de haut. Une troisième personne aurait malgré tout été bienvenue pour remettre la bibliothèque à la verticale. A deux, c'était un peu juste pour soulever les 250kg. Coté finition, peu à redire. il manquait 4 butées de porte mais qui nous ont été renvoyées rapidement suite à notre réclamation. Une poignée de porte s'est également décollée pendant le montage. Mon mari l'a refixée et depuis nous nous régalons de magnifique meuble pour lequel nous ne recevons que des compliments.
Un meuble pas si facile à monter... mais un SAV au top
j'ai commandé 2 meubles pour faire un coin bureau dans un grand salon. Les meubles sont vraiment très beaux, robustes, originaux, qualitatifs. J'adore !!!!! Cependant, contrairement à votre publicité, une femme seule en talon ne peut pas les monter ! Il faut un maillet, et taper sur le bois pour assembler le meuble, on ne peut pas faire ça discrètement un soir par exemple... De plus, une planche est arrivée cassée, l'autre avait le mauvais écartement, mais vous avez eu la gentillesse de me répondre aussitôt et de rectifier le soucis. Bravo, et merci à vous !
Super! Sehr schöne Qualität!
Das Regal passt nun genau in einen kleinen Winkel in unserem Wohnzimmer und bietet enorm viel Stauraum. Noch dazu ist es durch die versetzen Aufteilungen und Schubladen ein wirklich stilvolles aber auch dezentes Highlight in diesem Raum geworden. Der Aufbau war einfach und problemlos, alles sitzt und funktioniert einwandfrei! Wir sind wirklich sehr happy mit unserer Entscheidung.
Didn't think I'd ever be so excited over home storage!
Great service, easy construction, fantastic colour and great quality! Thank you for making such an amazing, inch perfect product and making my living room complete!
Looks great, exactly as expected
The show rack was really easy to mount and looks great on the living room, exactly as on the images. Very happy with the purchase!
Practical AND Instagrammable
The Type02 sideboard is 100% what I was looking for my living room - discreet, elegant and integrated into the environment. The perfect choice if you hide things and your favourite objects in the drawers, but want to show off an Instagram-friendly sideboard.
See all reviews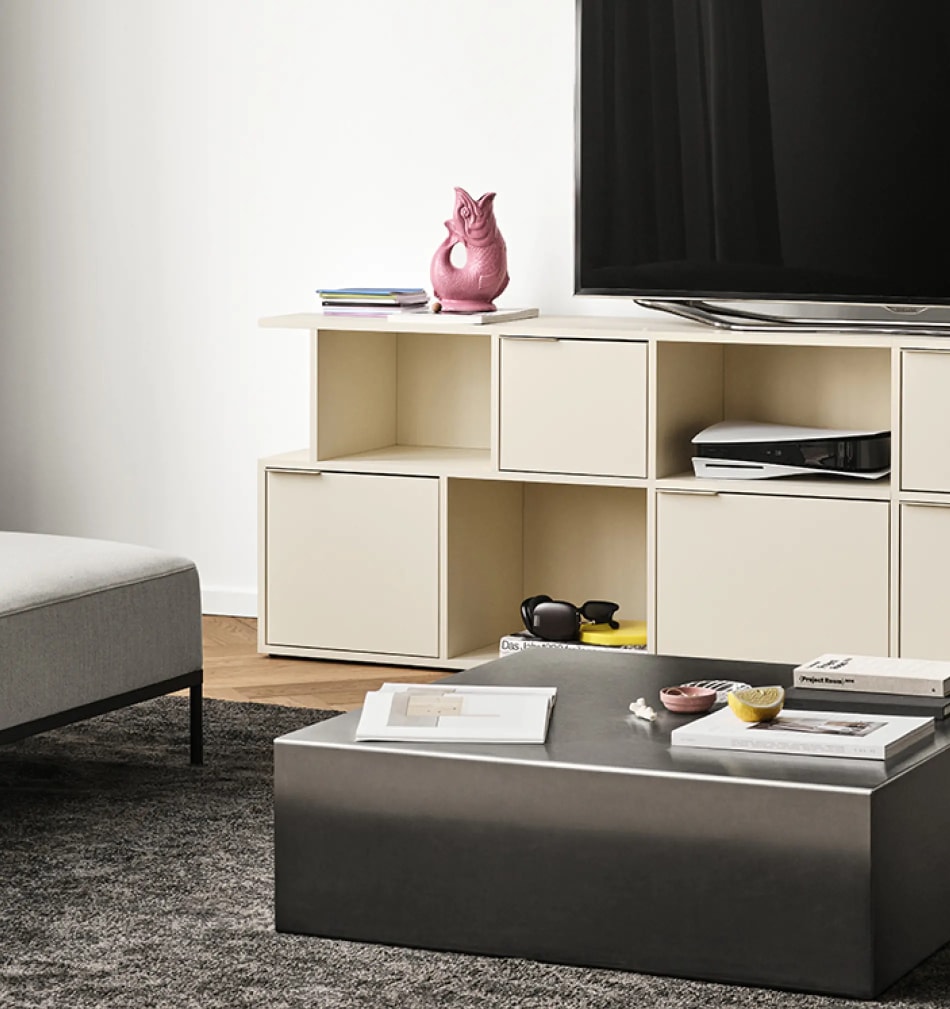 Discover more Tylko Rooms
Living Room Furniture Essentials
Ready to make your perfect living room come to life? Tylko makes designing living room furniture that perfectly suits your style simple - right from your screen. In just a few clicks, you can create modern living room ideas that will transform your family room into a welcoming, stylish haven. And, living room furniture sets are a great way to unify your space while creating more room to store what matters most.
Stylish and Affordable Living Rooms
Bring modern living room furniture into your space and not break the bank. Tylko creates premium quality, well-designed living room storage that's designed to last a lifetime (and look great). Whether paired with your modern pictures or canvas art pieces, or used to display a collection of Pothos, Monstera, Calathea, and your indoor living room plants, Tylko custom storage cabinets are the best living room furniture for it all.
Small Living Room? No Sweat.
Looking for small living room decorating ideas? Maximising your space stylishly with Tylko is simple. With a range of storage cabinets from Sideboards to TV Stands, Bookcases, Wall Storage or even Wardrobes (yes, in the living room!), you can be sure your living room furniture set fits your space, perfectly. Add doors or drawers to your wall cabinet, or keep your shelves open as you decide how to store or display, and discover a living room with more space to relax, entertain and enjoy.
The Best Living Rooms Have Style - Yours
Living room decor ideas start here. Skip the living room paint and bring in boldly-hued furniture that suits a range of wall colours, or keep things classic with timeless colours that create your own living room trend. Living room wall shelf decor is yours to decide. Whether grey, white, teal, yellow or more, you'll find Tylko's high quality finishes are the best way to introduce colour creatively for storage that suits every space and style - and a living room that's totally you.